Fast, scalable life-cycle assessments to help fashion brands measure and lower their carbon emissions.
Selected by 150+ fashion brands and manufacturers
Carbonfact is the only fashion-specific Carbon Accounting and Product-LCA platform that helps brands and manufacturers discover the exact sources of their environmental impact and take actionable steps to reduce their footprint. With the Carbonfact tool, you can run detailed and accurate life cycle assessments (LCAs) in a fraction of the time and cost of traditional methods. From key emission drivers across the value chain to product design decisions, our platform provides you with the insights you need to lower your environmental impact.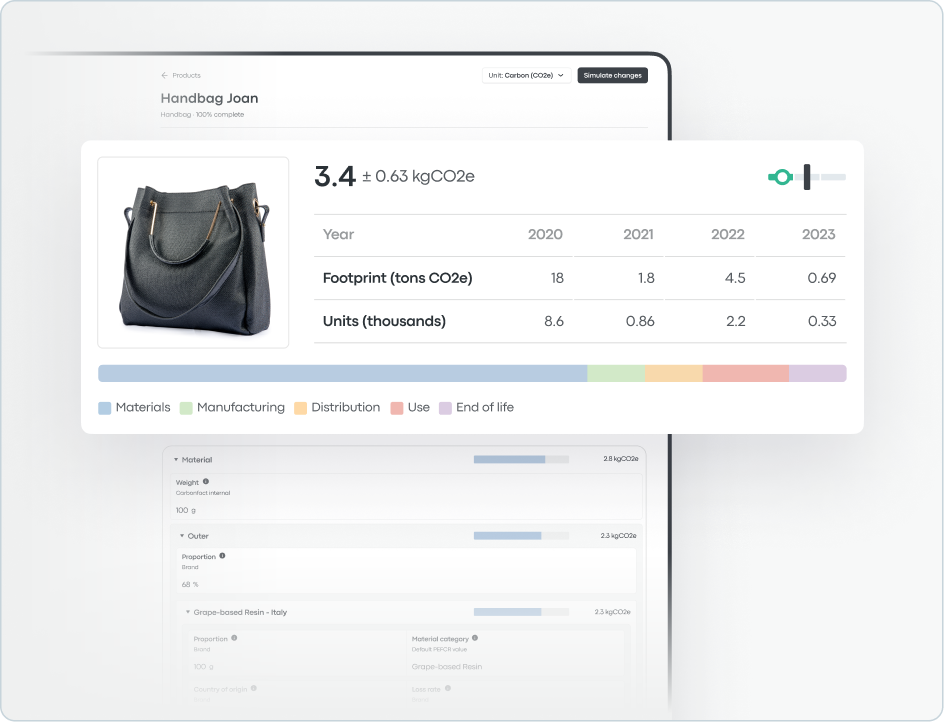 Discover how Carbonfact helps you measure, understand and reduce your footprint

Product-level LCA
Easily assess the environmental footprint of your entire collection in real-time, in a cost-effective way. Our platform identifies hotspots and helps you focus your efforts on areas that need improvement.

Data consolidation
Streamline your primary data collection process with our platform. Carbonfact seamlessly integrates with your PLM, ERP, and other systems to automatically centralize all your data in one location.

SBTi modeling
Keep track of your progress towards meeting your carbon goals and create a concrete reduction plan with dynamic carbon reporting.

Compliance reporting
Stay compliant with all existing and upcoming regulations, and easily generate data and graphs for your ESG reporting.

Carbon Accounting
Perform Carbon Accounting (GHG Protocol, Scopes 1-2-3) with unmatched resolution for purchased goods and services. Our automated and transparent process makes it easy to measure your scope 3 with high certainty.

Reducing carbon
Model catalog-level changes and run scenarios to assess ways to reduce your carbon footprint. Use real-time carbon-intelligence to inform your production and design process.
Discover how leading fashion brands are reducing their
environmental footprint with Carbonfact.
The only carbon management tool built specifically for the fashion industry. Decarbonize your catalog with real-time and expert insights.

Fashion-focussed
Our focus is entirely on apparel and footwear. Thanks to our granular intelligence throughout the supply chain, we're able to deliver the most accurate results and offer expert insights to help you reduce your environmental footprint.

Real-time data
Get real-time environmental emissions' data that is automatically collected from your PLM, ERP, and traceability solutions, and use this data to make informed decisions every day.

Scalable platform
Carbonfact allows you to measure the environmental footprint of your entire product catalog using both primary and industry data, at a fraction of the cost of consultants.
Collect (2-5 weeks)
Our customized connector integrates with your systems to gather all your primary data at product, organization and supply chain levels.
Measure (4-8 weeks)
Use the platform to get a first understanding of your product-level LCA data. Identify data gaps, and decrease the uncertainty tied to assumptions. Thanks to our proprietary heuristics, we can provide you with an approximate footprint measurement even when primary data is incomplete.
Reduce (ongoing)
Experiment with different production scenarios at the product level, as well as catalog-level changes to predict the impact on reaching environmental targets such as net zero goals or SBTi target.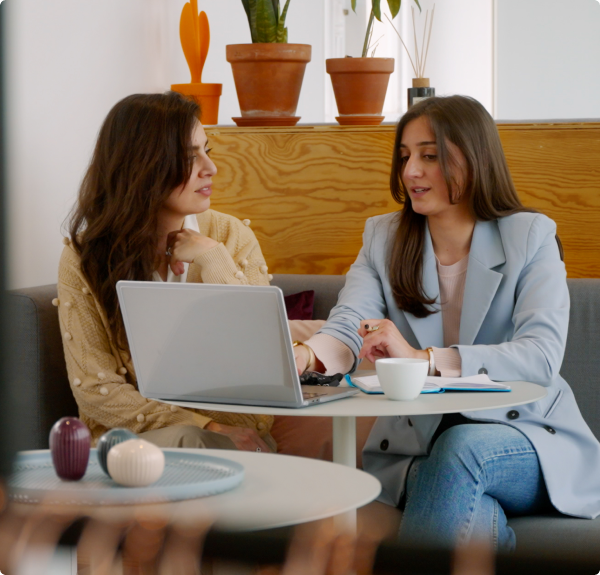 "At Carbonfact, we are bridging the gap between science and technology in the fashion industry. Our platform, built on a deep understanding of LCA methodology developed by academics, empowers brands and manufacturers to measure and reduce their environmental impact in a dynamic way."
Backed by science
Our approach is based on the Product Environmental Footprint (PEF), a methodology created by the European Commission based on the scientific method for measuring environmental footprints. We also follow the ISO 14040 standard which assesses the environmental impact of a product during its entire life cycle from gradle to grave. You can find a more detailed explanation of our methodology for the Apparel and Footwear category here.
Measure your CO2 emissions
Get in touch and discover how Carbonfact can reduce your carbon emissions. Our in-house experts are ready to provide personalized guidance and solutions tailored to your specific needs.