Gain real-time insights into your company's environmental impact
With features like real-time dashboards, product analytics, and scenario analysis, you can track progress against carbon reduction targets, simulate product-level changes, and dive deeper into the nitty-gritty details of your products' environmental impact. Plus, with carbon accounting for Scope 1, 2, and 3 emissions, you can get a comprehensive understanding of your company's carbon footprint.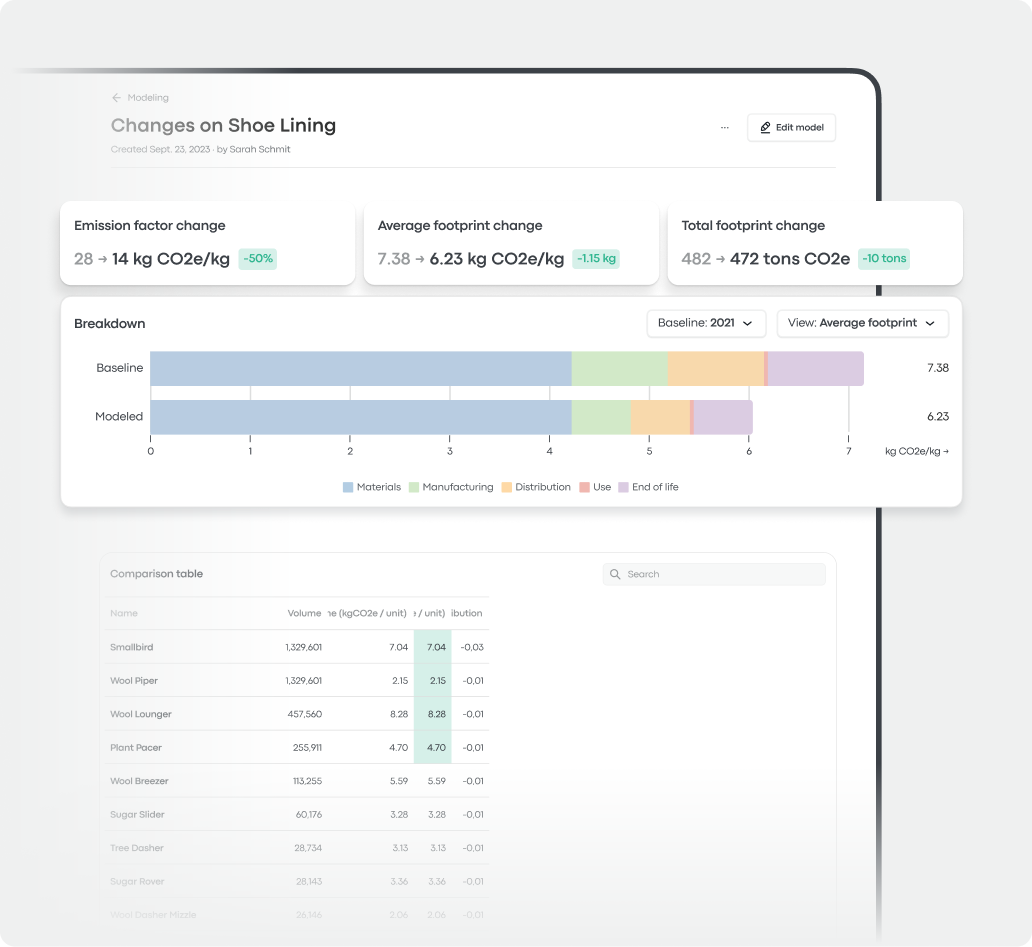 Discover the Carbonfact platform
Track your footprint over time, in real-time
Carbonfact's interactive platform offers real-time insights into your company and product environmental impact. With automatic data integration, track your carbon reduction progress daily, weekly, or monthly, identify hotspots, and filter data by manufacturers, materials, or product categories. Understand your scope 3 emissions drivers and get a comprehensive overview with interactive graphs and detailed tables.
Discover your products' footprint at the SKU level
Easily access and manage your product data with the Products View. Effortlessly search, filter, and sort through your collection, while identifying incomplete products and understanding missing data points. Gain insights into each product's overall footprint, compare environmental emissions against category and industry averages, and use date filtering for a comprehensive, style-level understanding of your product's environmental impact.
PRODUCT DRILLDOWN
Deep dive into your products' environmental footprint
Discover the environmental impact of your products by exploring LCA data on a SKU level. Easily navigate through a hierarchical layout that breaks down each stage of the product's life-cycle, from materials to end-of-life. See the source of each data point, whether it's primary or heuristics, and understand your product's footprint broken down by component, material, and emission factor.
See how you stack up against benchmarks
Compare your products' carbon emissions against industry and category averages with representative products. Our benchmarks are based on reliable industry reports and databases, providing you with accurate comparisons to track your progress towards achieving your goals.
Understand the impact of your materials' manufacturing processes
Our materials view feature allows you to easily track all the materials used in your products. You can view their country of origin, carbon range, and the number of products associated with each material. Drill down into a specific material's environmental footprint and see all of the products linked to it. You can also identify the technical features and manufacturing processes of each material.
Report on your Scope 1, 2, and 3 emissions
Carbonfact provides accurate and comprehensive carbon accounting for Scope 1, 2, and 3 emissions based on GHG Protocols' standards. We use purchase order data and quarterly/yearly breakdowns to accurately calculate your scope 3. With customizable data inputs for facilities, employee travel, and other factors such as IT and marketing, you can get a detailed overview of your carbon emissions.
Run what-if scenarios, on a product-level
Our Product Impact Simulation tool enables you to run what-if scenarios on a product-level, where you can experiment with different materials and components, suppliers, or transportation methods, and see how the changes would impact your emissions.
Assess the combined impact of initiatives on your carbon trajectory
Run scenarios based on changes to materials, component weight, transportation method, and renewable share to understand ​​the combined impact of product and/or supply chain changes on your catalog's carbon footprint. Use this information to create a solid plan, incorporate changes, and make crucial decisions with confidence to meet your carbon reduction targets.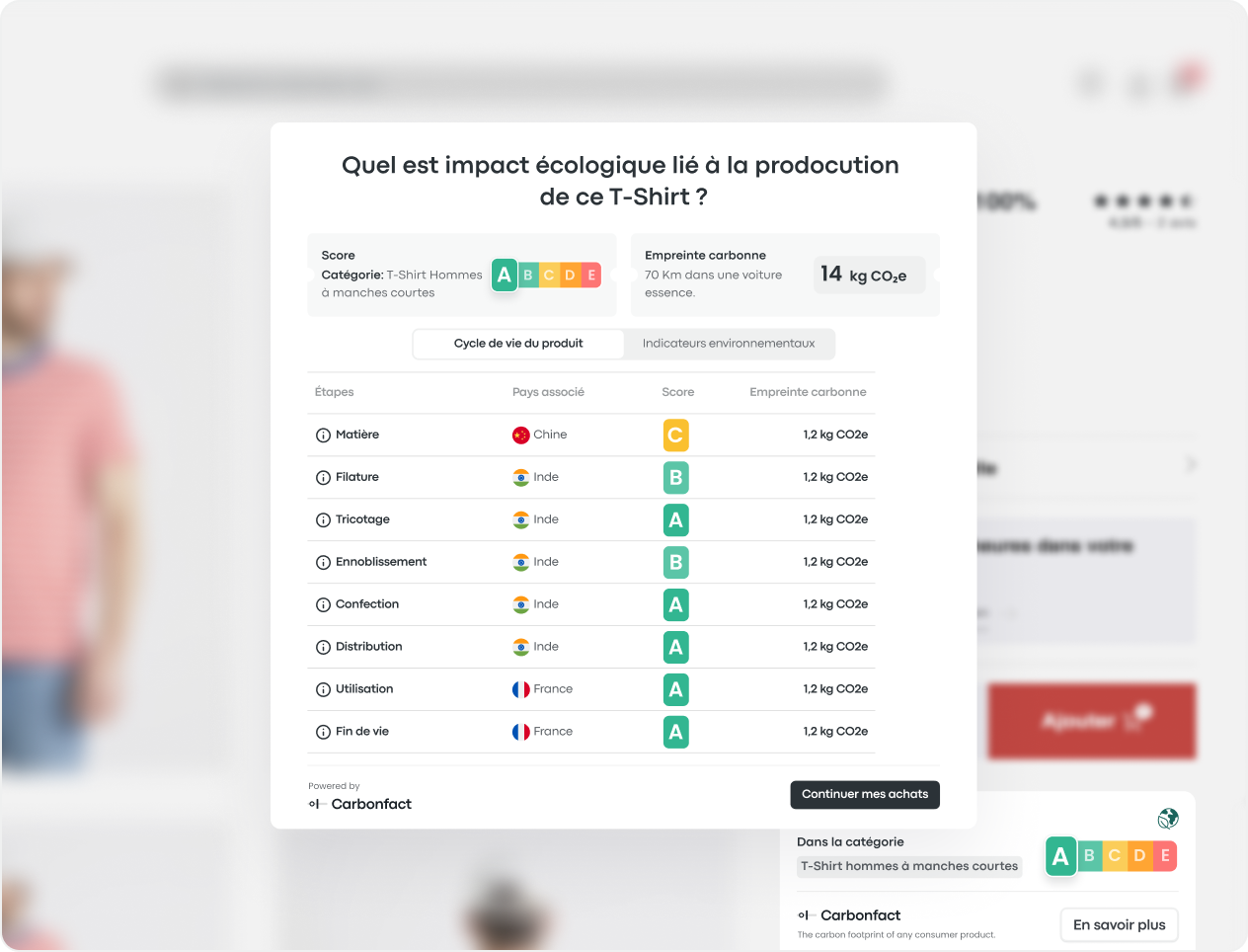 Stay compliant with the environmental labeling laws
The French Climate and Resilience law requires fashion brands to have verified environmental labeling. Our embeddable e-commerce widget allows you to showcase your product's carbon footprint assessment directly on your product pages. Clicking on the badge reveals a detailed dialog with more information on the product's footprint.
Access the data you need
We can export SKU-level footprints on a daily basis to Google BigQuery, and other data warehouse platforms such as Snowflake, Redshift, and Azure. This enables you to seamlessly integrate your data with your internal business intelligence tools. We provide a REST API that allows you to request footprints by SKU.
Measure your CO2 emissions
Get in touch and discover how Carbonfact can reduce your carbon emissions. Our in-house experts are ready to provide personalized guidance and solutions tailored to your specific needs.
Don't take our word for it, take theirs
"Thanks to the platform, we now have the capability to assess the progress of our environmental footprint and analyze the breakdown of our emissions across manufacturers, product categories, and raw material types. With the help of a tangible carbon indicator, we can now take the initiative in managing our collections and develop effective strategies to minimize our emissions."