Product LCAs for fashion brands made easy
We turn data chaos into a detailed view of your products' environmental impact.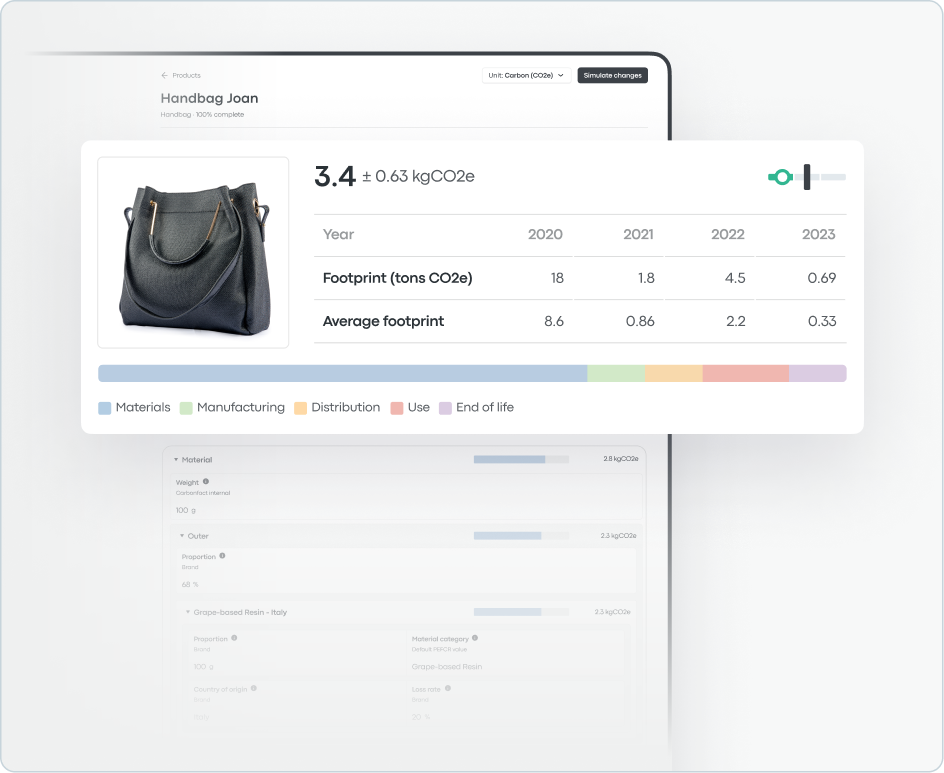 YOUR CHALLENGE
Your LCAs are a data nightmare
It can take months to evaluate a single style, costing you up to $15,000 per life cycle assessment.
100+ data points needed for accuracy
Limited access to data beyond the first tier
Costly, time-consuming, and resource-intensive
OUR SOLUTION
We turn data chaos into precise LCA insights at the SKU level.
LCAs for fashion brands, made easy - this is how:
Environmental impact measurement for all your products (CO2e, water consumption, land use, etc.)
Interactive platform and real-time LCA data automatically enriched from your IT systems (ERP, PLM, etc.)
Priority-driven data collection from suppliers thanks to our unique Uncertainty KPI
How Carbonfact works
We reduce your data admin work by building a custom system connector to import product data from your PLM, ERP, traceability, and Excel systems into our tool.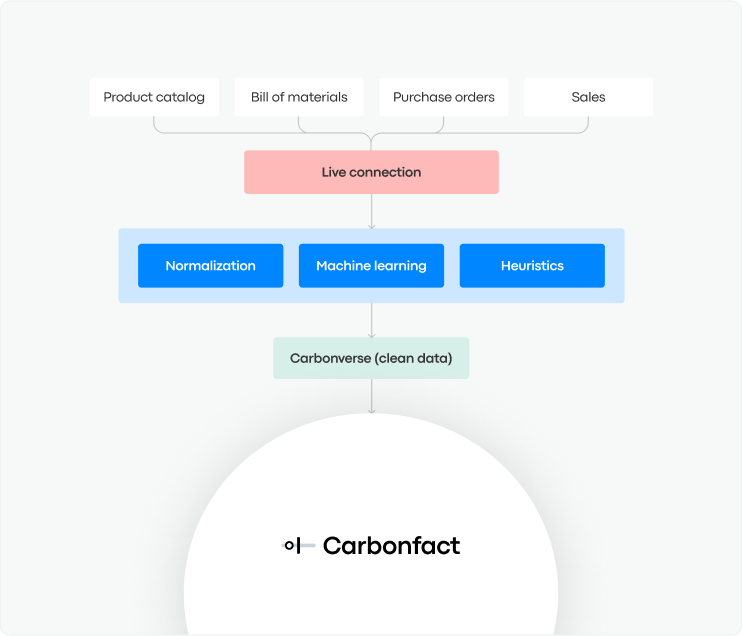 We identify and automatically fill in your data gaps with our own fashion-specific database, heuristics, and machine learning to provide an approximate footprint for each product, even when data is incomplete.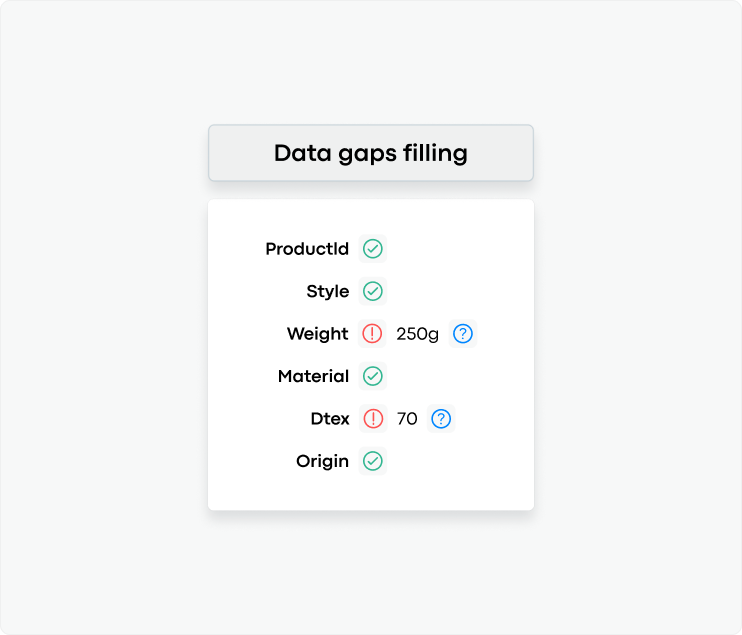 Our GHG-protocol and PEFCR compliant engine automatically calculates individual product footprints and updates calculations whenever new purchase orders are available.
Carbonfact helps you identify emission hotspots and smartly prioritize your supplier data collection, saving your team weeks of time and effort.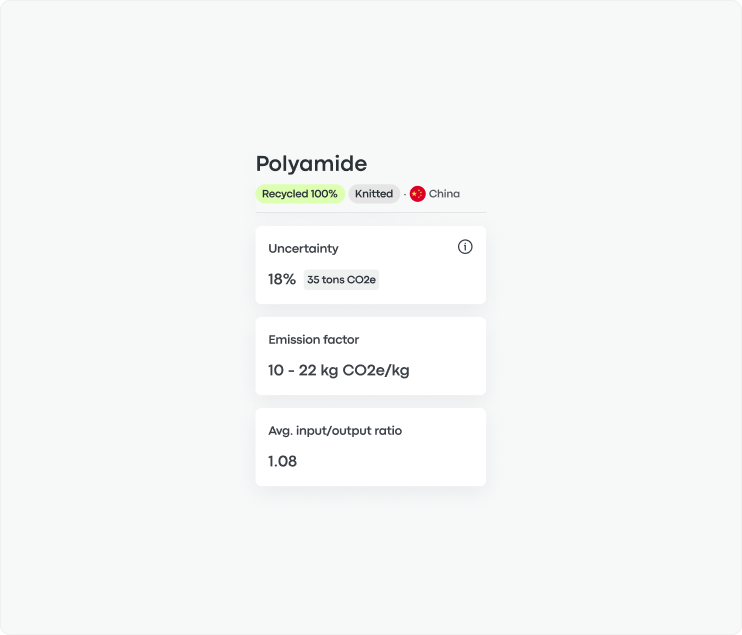 05
Analyze and report your emissions
Explore your data with advanced trends reports, perform your yearly Carbon Accounting, and generate standard or custom ESG reports to stay compliant with CSRD and other regulatory requirements.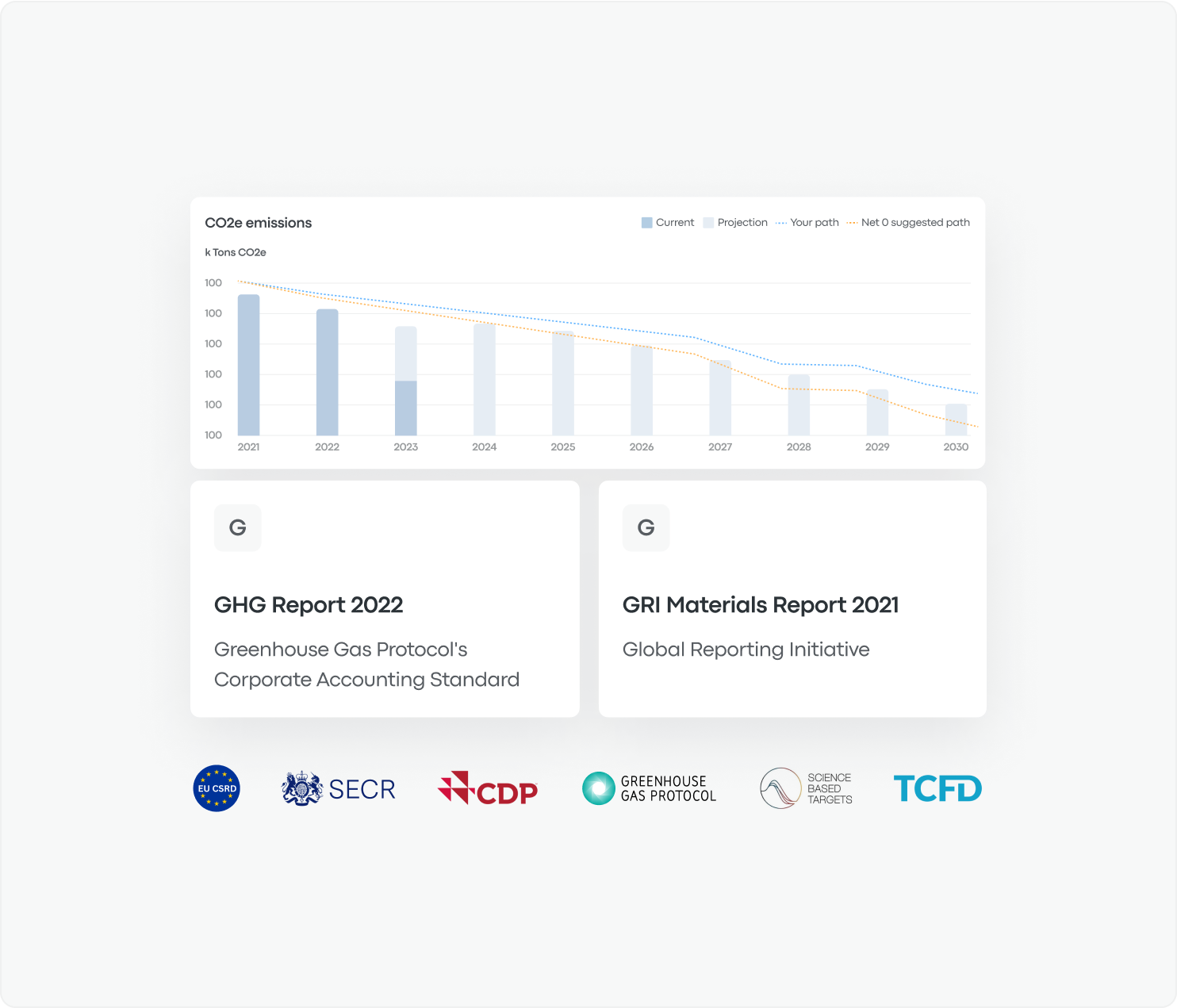 Dive into your data with our analytics dashboards and simulate changes using our advanced simulation tools. Model changes across components, materials, process steps, and transport on a product and catalog level.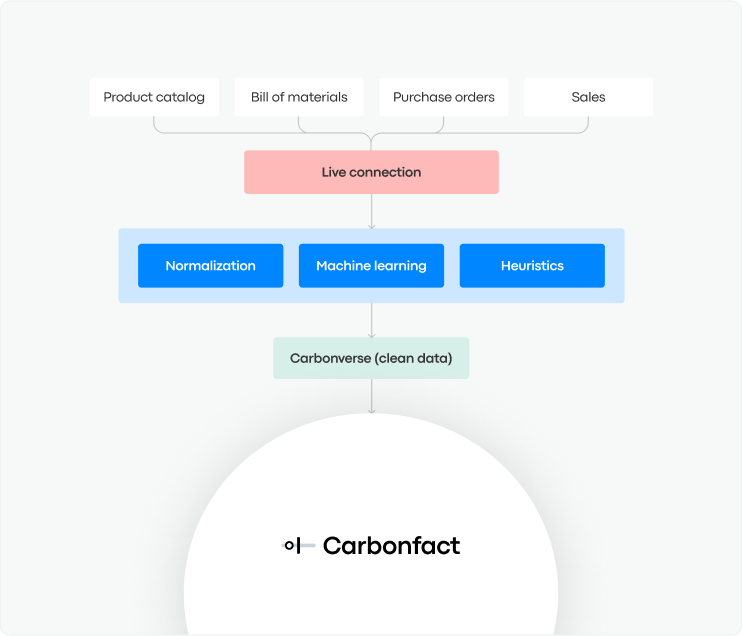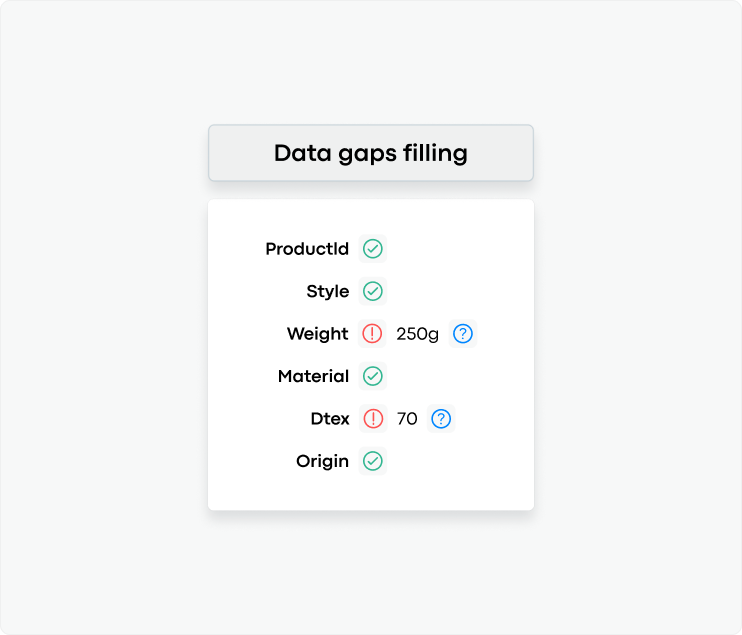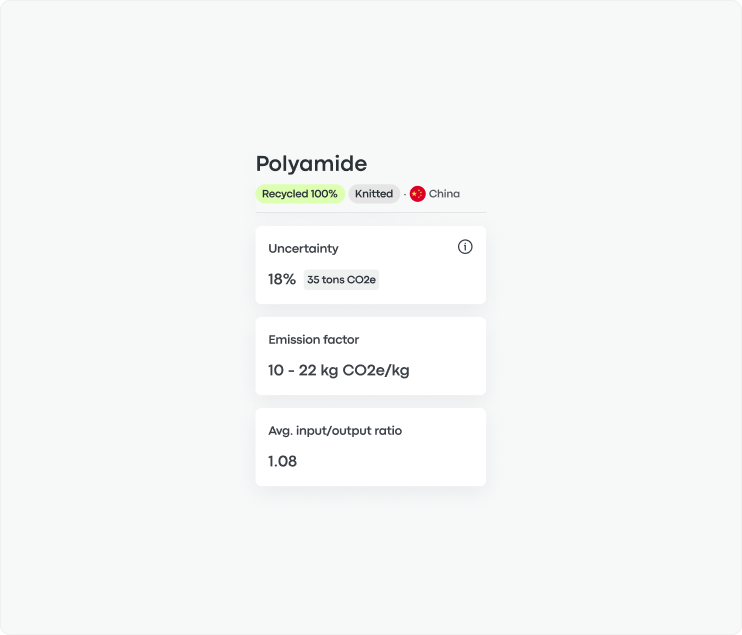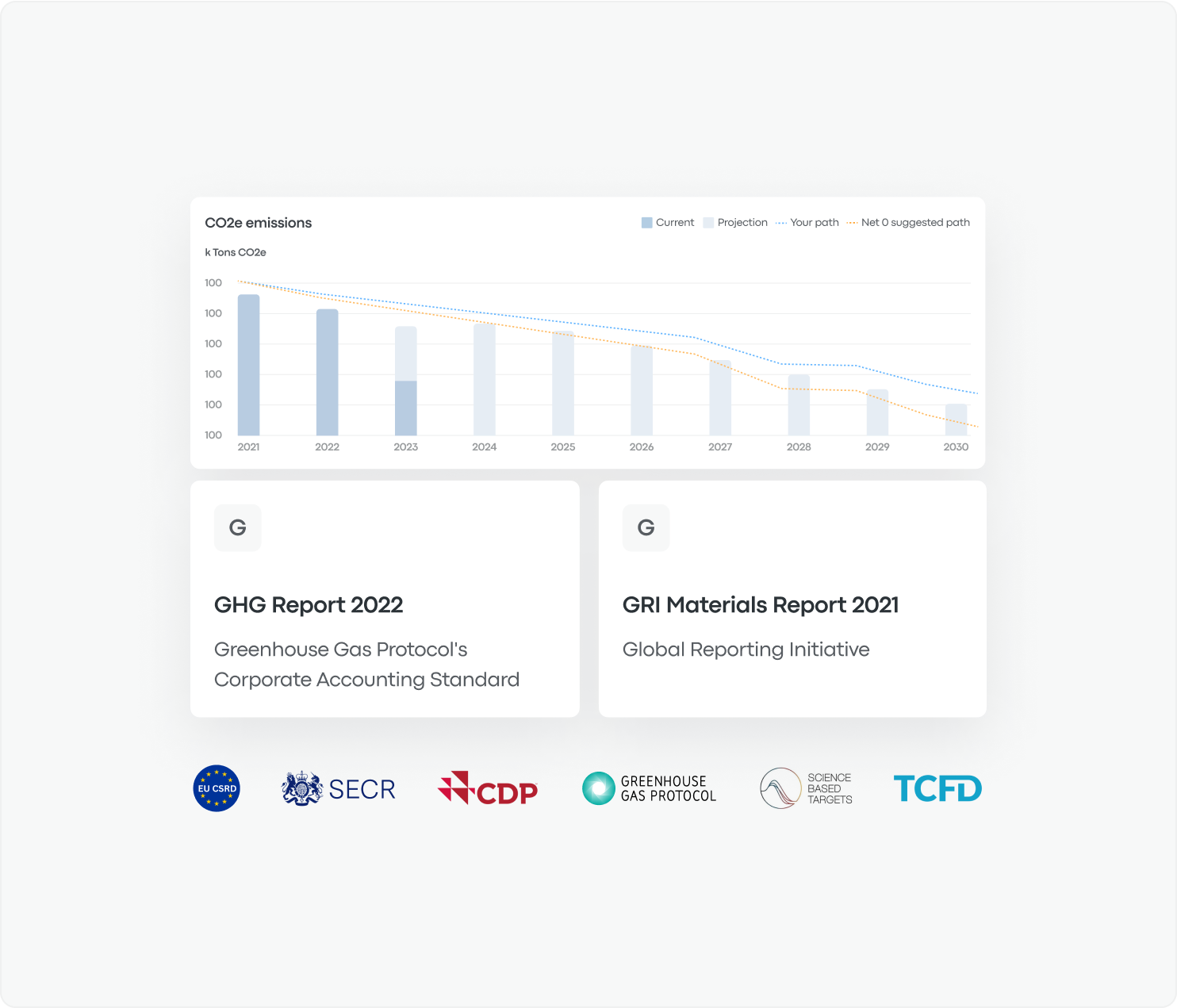 Why Carbonfact
From key emission drivers across the value chain to product design decisions, our platform provides you with the insights you need to lower your environmental impact.
100% fashion focused
With our granular intelligence across the entire supply chain, we're able to deliver the most accurate results and offer expert advice.
Industry standards
We adhere to the GHG protocol, ISO standards, and the European Commission's PEF standard for complete compliance.
Scalable platform
Live, interactive data and graphs that update when you provide us with new data.
Actionable insights
Conduct Carbon Accounting (Scope 1, 2, 3), submit SBTi, or build your decarbonization strategies.
Priority-driven data collection
Our Uncertainty metric helps to prioritze your data collection efforts from suppliers, and saves you weeks of work.
First results in just 2-5 weeks
We fill your data gaps with smart heuristics and industry benchmark data to provide you with an initial assessment quickly.
Custom emission factors
We create custom emission factors based on your data and products.
Automated data collection
We connect to your PLM and ERP systems to create a live data connection to our platform.
Discover how leading fashion brands are reducing their
environmental footprint with Carbonfact.
Product LCA software for apparel and footwear brands