Run life cycle assessment for all your products in weeks not months
Carbonfact's LCA engine, based on globally recognized ISO14040 and PEF standards, simplifies the complex and costly process of assessing the environmental footprint of your products across their entire life cycle.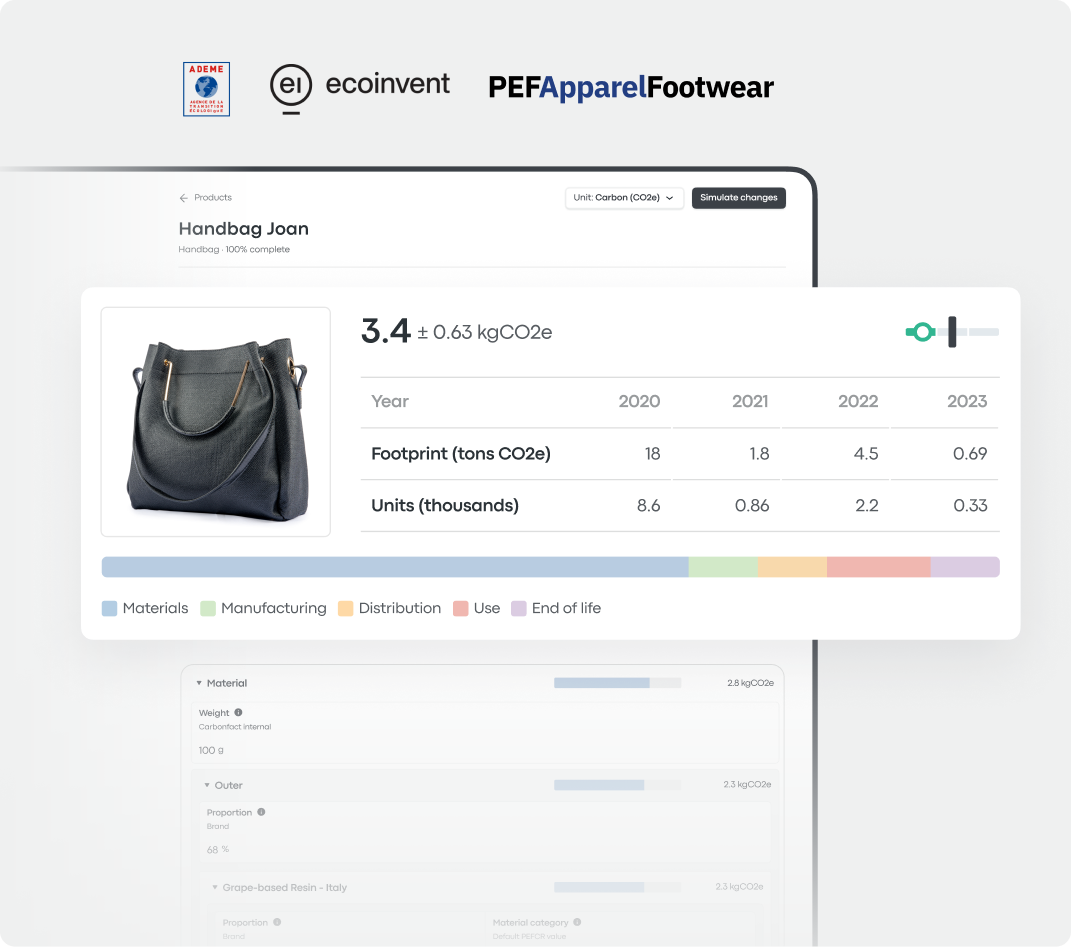 Discover the Carbonfact LCA engine
A robust LCA engine based on proven methodologies
Carbonfact's life cycle assessment (LCA) engine follows globally recognized standards and methodologies to provide accurate multi-indicator footprint measurements for products throughout their life cycle. Our engine is based on the ISO 14040 norm, GHG protocol, and the European Commission's PEF standard, meaning you can expect the highest level of accuracy and transparency when assessing your environmental impact.
Get specific with custom emission factors
Carbonfact enables you to easily consolidate primary data from your suppliers and create custom emission factors. This means that for each material you use, you can provide process-step level energy information, or you can incorporate your existing LCA data.
Measure footprints fast, even with incomplete data
Our proprietary heuristics help us fill in data gaps when primary data is unavailable, meaning we can provide you with approximate footprint measurement, even with incomplete data. We rely on a variety of trusted sources, including aggregated data from our fashion customers, and top databases such as Ecoinvent 3.9, Base Empreinte from ADEME, EF 3.1, and the technical assumptions in the PEFCR- fashion and apparel draft.
Focus your data collection efforts
Carbonfact's uncertainty metric helps you prioritize your data collection efforts by identifying hotspots including materials, processes and assumptions that have the highest impact on overall footprint. By gathering more primary data, you can reduce the uncertainty and improve the accuracy of your footprint.
Measure your CO2 emissions
Get in touch and discover how Carbonfact can reduce your carbon emissions. Our in-house experts are ready to provide personalized guidance and solutions tailored to your specific needs.
Don't take our word for it, take theirs
"Working with Carbonfact is crucial for us because it enables our entire team to seamlessly integrate carbon reduction into existing processes, fostering informed conversations and data-driven planning. What impresses me the most about the platform is its ability to highlight the variables with the greatest impact, driving our focus towards meaningful sustainability measures."

"It is important to Nanushka that any fabric innovation and development is supported by scientific assessment, and Carbonfact platform helped us accurately measure the impact of OKOBOR TM, our exclusive new alt-leather fabrication. We modelled that replacing 1 kg of our previous alternative leather with OKOBOR TM can lead to a 20% reduction of carbon emissions, saving 2.3 kg of CO2."

"Among the crowded market of carbon management tools, Carbonfact stood out for us. Their solution met our specific needs of automating carbon footprint calculations for all our products and emission scopes in the textile industry. Carbonfact's LCA expertise, smart approach to handling data gaps, and ability to connect and feed calculation results back into our systems were key factors that convinced us."