The European Union (EU) is taking significant strides toward reducing carbon emissions and building a more sustainable future. Because the fashion and textile industries have such a large carbon footprint, they will be highly impacted by the numerous EU regulations and directives rolling out in the coming years. Fashion brands based in the EU and abroad will need to be aware of how these rules will affect their business in the very near future.
If you have any questions about how to stay compliant, please feel free to reach out to our team at any point. We'd be more than happy to help!
Now, let's first dig into the upcoming EU regulations and directives as well as regulations within the EU member states that will impact the fashion and textile industries.
But first…
Understanding EU Legislation
Before we delve into the specifics, let's take a look at how EU legislation works. (Don't worry, this won't be a complicated civics lesson!)
There are two key concepts in understanding how the EU makes legislation: regulations and directives.
A regulation is basically a general law that applies to all EU countries. It's a binding act that every country must comply with.
A directive is a legal act that sets a minimum standard for EU member states. Each member state must enact their own laws or regulations within a two year period to comply with the minimum requirements of the directive. Member states can also choose to go beyond the minimum requirements set out in the directive.
What does this mean for you? There are both EU-wide laws AND upcoming national laws that your fashion brand will need to comply with. In regard to climate change, all new regulations and directives are part of the European Green Deal, which sets a roadmap for all future environmental legislation.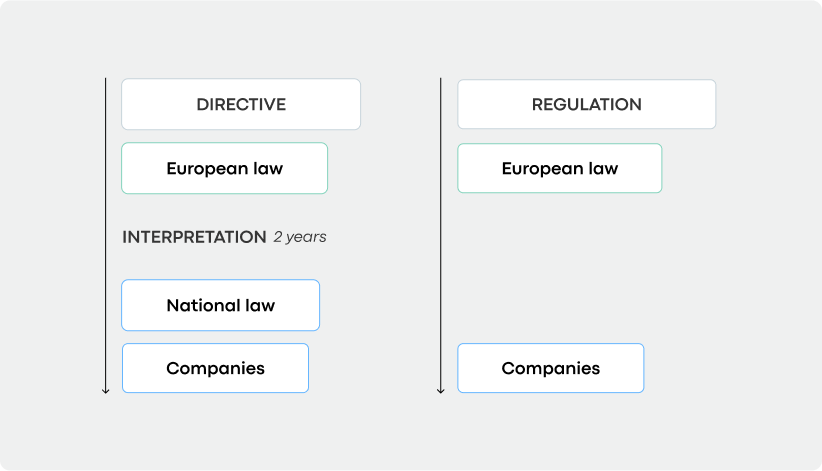 EU legislative process
The EU legislative process involves the proposal of legislation by the European Commission, which is then reviewed and potentially amended by the European Parliament and the Council of the European Union. If both bodies agree on the text after a dialogue phase, which can span several years, the legislation is adopted. A Regulation becomes binding across all EU member states directly, without the need for national transposition, and enters into force 20 days after its adoption. Following the adoption of a Regulation, Delegated Acts can be developed. Delegated Acts are secondary laws that specify or amend non-essential elements of the original legislation, allowing for adjustments or details (e.g. to certain industries) to be added without going through the full legislative process again.

Both Directives and Regulations go through the EU legislative process involving the European Commission, the European Parliament, and the Council of the European Union. Once adopted, however, their paths diverge, directives must be transposed by each member state into its national law by a given deadline.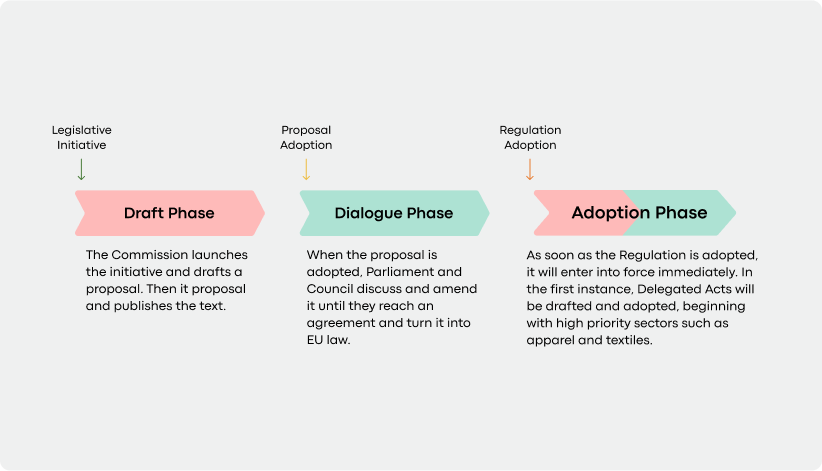 Let's start there.
The European Green Deal
The European Green Deal aims to make Europe the first climate-neutral continent by 2050. To do so, it establishes ambitious environmental goals and targets, which in turn serve as the foundation for directives and regulations that are continually being introduced. Among its primary objectives are significant reductions in net greenhouse gas emissions, targeting a minimum decrease of 55% by 2030 as compared to the levels recorded in 1990. Emphasizing the importance of reforestation and ecosystem restoration, the initiative also strives to plant 3 billion trees within the EU by the year 2030.
Within the European Green Deal, there are two concrete plans that are pertinent to understanding current and upcoming climate legislation.
EU Circular Economy Action Plan (CEAP)

The CEAP is a cornerstone of the European Green Deal. Comprising 35 specific actions, it places a special spotlight on the textiles sector, which is recognized as one of the most resource-intensive industries. The Circular Economy Action Plan introduces an array of initiatives that are crafted to promote sustainable product design, establish circular economy practices, and curtail waste generation.
Read all the details

EU Strategy for Sustainable and Circular Textiles

To implement the commitments of the European Green Deal and the new CEAP, the EU has developed a specific strategy for the textiles sector. The EU Strategy for Sustainable and Circular Textiles will reinvent the entire lifecycle of textile and footwear products, not only changing how fabrics are made, but how they are consumed, and eventually disposed of. This includes: increasing the longevity of textiles, increasing the use of recycled fibers, curbing fast fashion, and making products easier to repair or recycle with a Digital Product Passport.
Now let's take a look at the main climate regulations and directives, and how they affect fashion and textile companies in greater detail.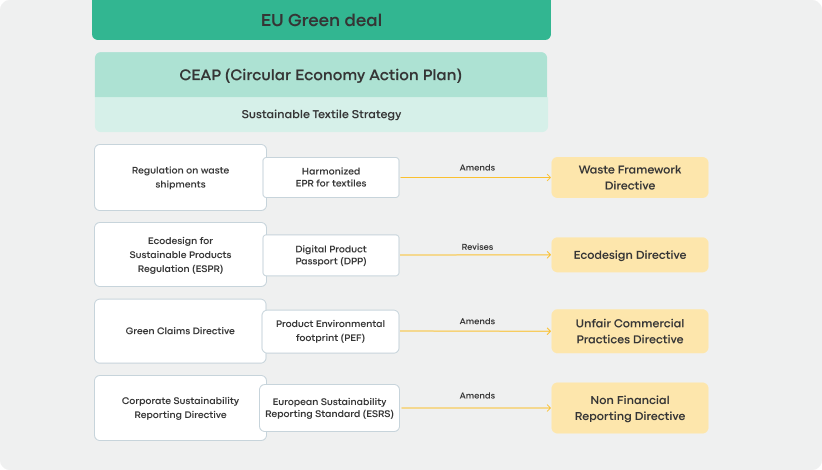 Corporate Sustainability Reporting Directive (CSRD)
Current Status: Adopted
While not part of the European Green Deal, the Corporate Sustainability Reporting Directive works in tandem with these new regulations as part of the Sustainable Finance Initiative. Essentially, the CSRD requires companies to not only consider their financial health, but their sustainability as well. It will have numerous implications for fashion and textile brands.
This directive will mandate enhanced sustainability reporting, making it applicable to large companies with 250 or more employees and all companies listed on the EU market. Eventually it will apply to a number of non-EU corporations. It will require these companies to provide detailed disclosures on environmental, social, and governance (ESG) matters, such as greenhouse gas emissions, supply chain transparency, labor practices, and diversity initiatives. By doing so, fashion and textile brands will face increased scrutiny and accountability, compelling them to adopt more sustainable practices.
Even though the CSRD was implemented in 2023, reporting requirements will be gradual, beginning in 2024, and reflected in reports published in 2025. The EU is currently working on the European sustainability reporting standards (ESRS), this standard will operate as the framework for the disclosure of environmental, social and governance information.
Waste Framework Directive
Current Status: Adopted
In 2021, the Waste Framework Directive new directive on waste shipments was adopted. This initial directive aimed to foster a circular economy and ensure that the EU does not ship its textile waste to developing nations. It made it easier to transport waste and recycle within the EU, as well as improve measures to track illegal waste shipments.
You're likely to see the acronym EPR—short for Extended Producer Responsibility—used in reference to this directive. It contained several new rules that will "make producers responsible for the full lifecycle of textile products." That includes everything from product design to textile waste and recycling. Member States will be required to establish systems for the separate collection of textile waste by January 1, 2025. Every country will have their own EPR, and each as a fashion brand you will have to join an EPR for each country.
Regulation on Waste Shipments
Current Status: Proposal
In 2023, the European Commission proposed an amendment to the Waste Framework Directive, targeted to the textile industry. There are currently numerous EPRs in use across the different Member States, and the goal of this new regulation is to harmonize them.
The new Regulation on Waste Shipments will facilitate the sustainable management of textile waste across the EU, making textile producers responsible for the costs of textile waste management. The goal is to encourage them to reduce waste and increase the circularity of their products. Once producers are responsible for covering the cost of textile waste management, they will have a fresh incentive to reduce waste and make their products more circular. How much will it cost? The fee will be based on "eco-modulation", the overall environmental performance of the textile.
Read the details on the revision of the Waste Framework Directive
Revision of the Textile Labeling Regulation
Current Status: Draft phase
The current Textile Labeling Regulation is limited to fiber, which has led to a confusing amalgamation of labeling systems across the EU. It also does not keep pace with the development of new fabrics and recycling technologies. The Commission plans to revise the current Textile Labeling Regulation in the fourth quarter of 2023, which will streamline product label requirements.
It will introduce specifications for both the physical and digital labeling of textiles. Brands will need to implement more comprehensive and standardized labeling practices, ensuring that consumers have access to accurate information about the composition and origin of textile products. As a result, fashion and textile brands must prepare to adapt their labeling procedures to comply with these new regulations, thereby promoting fair competition and bolstering consumer confidence in their products. We will update this text once the revisions are made public.
Ecodesign for Sustainable Products Regulation (ESPR)
Current Status: Provisional agreement (Updated Dec 5th 2023)
Because product design determines 80% of a product's environmental impact, the current Ecodesign Directive, which currently only covers energy-related products, will be expanded to include textiles, and other sectors will follow. This regulation aims to make products more "durable, reliable, reusable, upgradable, reparable, easier to maintain, refurbish and recycle, and energy and resource efficient."
Fashion brands wishing to sell in the EU marketplace will need to address product design from beginning to end, taking into account a product's durability, recyclability, and inclusion of recycled materials. For the fashion and textile sector, this means greater transparency and traceability, enabling consumers to make informed choices based on sustainability factors. The new ecodesign requirements for textiles are expected to be finalized by mid 2025.
The regulation also introduces the Digital Product Passport, which will make it easier for consumers to repair or recycle products as well as track potentially dangerous substances throughout the supply chain.
Digital Product Passport
As mentioned above, the Digital Product Passport will have significant implications for the fashion and textile industry. All products placed on the European market must have a product passport. This tool will serve as a digital record that provides comprehensive information about a product's environmental footprint throughout its lifecycle.
Every product must include a machine-readable passport—such as a QR code—that is linked to a unique product ID. For fashion and textile brands, this can include:
The product's durability, reusability, and repairability
Percentage of recycled content
The product's carbon footprint
And the product's circularity, among other requirements
Additional specifications on the Digital Product Passport are expected to be published in 2024, although it is still unclear when it will go into effect.
Directive on Green Claims
Current Status: Proposal
With 230 different environmental labels, it's no wonder consumers are confused when trying to buy a more sustainable, eco-friendly product. On top of that, "53% of green claims give vague, misleading or unfounded information" and "40% of claims have no supporting evidence." The Green Claims Directive will empower consumers to make informed decisions, by mitigating greenwashing and misleading environmental claims.
Any green claims—such as "this product has a reduced carbon footprint"—will need to be independently, third-party verified and scientifically proven. Additionally, there will be rules ensuring claims are clearly communicated. For example, aggregate scoring of a product's environmental impact may no longer be allowed. And any new labeling schemes will no longer be allowed, unless permitted by the EU and can clearly demonstrate added value to the authorities.
This directive aims to improve the information presented on product labels, particularly in regards to their durability and repairability. As such, any claims related to the sustainability of a garment will need to be substantiated by third-party reviewed data, obtained by using a standard methodology for life cycle assessment (LCA).
Product Environmental footprint method (PEF)
The EU is working on the product environmental footprint method (PEF), which specifically contains data for the apparel and footwear sector. The PEF incorporates several environmental indicators into a product's environmental footprint assessment, including factors such as carbon emissions, water usage, energy consumption, and more.
Once the Green Claims Directive has been implemented, it will be even more important for fashion and textile brands to incorporate a carbon management tool such as Carbonfact into their workflow.
So, when's it happening? In March 2023, the Commission published a proposal for this directive. While it has not yet been implemented, the multinational consulting firm Deloitte estimates that the requirements for this directive will apply from 2026.
Corporate Sustainability Due Diligence Directive (CSDDD)
Current Status: Adopted
This directive compels companies to assess and mitigate the environmental and social impacts of their operations and supply chains. By mandating a comprehensive evaluation of potential risks and adverse effects, the directive aims to foster responsible business practices. It encourages transparency, ethical sourcing, and the integration of sustainable measures throughout the production and distribution processes.
This directive will affect companies in high-impact sectors such as fashion and textiles with 250+ employees and a net turnover of 40+ million euros worldwide. It's important to highlight that this is not about achieving specific results; instead, it's about companies making a concerted effort to improve their environmental and social impacts. In other words, the directive expects companies to take meaningful steps towards sustainability and ethical practices, but it doesn't require them to achieve certain predetermined outcomes.
What does that mean for your fashion company? Essentially, this directive is about creating visibility and traceability throughout your value chain. Fashion and textile brands will need to develop due diligence policies, identify human and environmental impacts of their activities, and prevent potential or actual negative effects. All of this, of course, must be communicated publicly for both regulators and consumers.
Once the CSDDD has been formally adopted by the EU – not expected before 2024 – Member States will have two years to implement the CSDDD into national law. As the CSDDD is a directive, member states can go above and beyond the minimum requirements set out by the EU.
The various proposals and initiatives listed above are at different preparatory and/or legislative phases, and for several, there will still be consultations with stakeholders and necessary impact assessments to determine the exact scope and concrete measures. To get an overview of the strategy and the planned implementation, the European Commission has published a comprehensive document titled "Transition pathway for the textiles ecosystem", which centralizes all information regarding the textile industry. You can access it here.
After exploring the most pressing textile laws and regulations in the EU, let's now look at the current and forthcoming laws by EU membership states.
France: Anti-Waste Law for a Circular Economy (AGEC law)
France's Anti Waste Law for a Circular Economy was first published in 2020, and revised in 2023. This legislation aims to eliminate the improper disposal of waste, as well as reduce waste all together. In particular, it will tackle single-use plastic packaging, phasing it out altogether by 2040. This will include the plastic polybags that many fashion brands use to distribute their products. Additionally, fashion and textile brands will be required to extend the lifespan of their products through repairability and durability, as well as establish systems for collecting and recycling textile waste.
Moreover, fashion brands will need to develop eco-design principles to minimize the environmental footprint of their products. This law also prohibits the destruction or incineration of unsold goods, compelling brands to find more sustainable ways of handling excess inventory.

The law requires all fashion and textile products sold in the French market to disclose information about their production processes and material composition, including:
Environmental qualities and characteristics of products: Information on the incorporation of reused material, the use of renewable resources, sustainability, repairability, and reusability.
Durability and repairability of products: Information on the expected lifespan of products, the availability of spare parts, and the ability to repair or modify products.
Environmental impact of products: Information on the greenhouse gas emissions, water consumption, and waste production associated with the production, use, and disposal of products.
Compliance will be rolled out over the next few years:
January 2023 – Companies with €50M+ in annual turnover and 25k units
January 2024 – Companies with €20M+ in annual turnover and 10k units
January 2025 – Companies with €10M+ annual turnover and 10k units
France: The Climate & Resilience Law – Environmental Labeling for Products
The Climate & Resilience Law was passed in 2021, and as of January 2023, all large fashion corporations with €50M+ turnover and 25,000 units sold in France will be required to provide an environmental impact label on their products.
Eventually, this law will apply to all companies with €10M+ turnover and 10,000 units. This mandatory disclosure aims to empower consumers to make informed choices by promoting transparency and eco-consciousness.
The label is meant to be inclusive, showcasing a product's environmental and social impact throughout its entire life-cycle. It should include:
Greenhouse gas emissions
Impact on biological diversity
The consumption of water and other natural resources
Brands must implement a comprehensive carbon and environmental management system, such as Carbonfact, in order to track environmental data across the entire life-cycle of a product.
The Netherlands: Extended Producer Responsibility
Similar to other EPR laws, the Dutch Extended Producer Responsibility for Textiles aims to improve the circular economy within the fashion industry. Beginning July 1, 2023, all fashion and textile producers either based in the Netherlands or selling on the Dutch market will be responsible for the collection, recycling, reuse, and waste of their products. This regulation applies to apparel, as well as household items like bed linens and tablecloths.
What does that look like in practice?
Fashion or textile brands will need to provide collection locations for consumers to drop off their unwanted items, prove that the textile waste is properly recycled or reused, and report on the amount of textiles imported into the Dutch market. On top of that, brands will need to complete a one-time registration at Rijkswaterstaat, the Dutch government agency responsible for managing water systems in the Netherlands.
Starting in 2024, brands will be required to submit an annual report; and starting in 2026, they will need to include objectives in their documentation, including:
Textiles put on the market in 2024 will need to include at least 50% recycled materials, 20% of which are prepared for reuse.
In 2029, all textiles will need to include 75% recycled materials with 25% prepared for reuse.
Norway: Transparency Act
In effect since 2022, the Norwegian Transparency Act carries substantial implications for fashion and textile brands operating in Norway. The primary aim of this act is to enhance transparency and promote respect for human rights and decent working conditions throughout the entire value chain of businesses.
To achieve this, the act mandates that companies conduct due diligence assessments and document their efforts to mitigate associated risks. Because it is aligned with the UN Guiding Principles on Business and Human Rights and OECD Guidelines for Multinational Enterprises, there may be revisions in the future that require reporting on environmental impact and risk.
Currently the act mandates that companies should:
Conduct routine due diligence evaluations in line with OECD's multinational company guidelines, focusing on human rights and labor conditions.
Assess the impact of their business operations, supply chains, and partnerships on human rights and working conditions.
Thoroughly investigate and mitigate risks associated with human rights and working conditions.
Respond to public requests by providing compliance information within a maximum of three weeks, or within two months if necessary.
Make due diligence assessments readily accessible via the company website.
This legislation is applicable to large and mid-size companies either based in Norway or providing goods and services in the country. Companies meeting specific financial criteria, such as over 70 million NOK (ca EUR 6m, USD 6.5m) in sales revenue, over 35 million NOK in balance sheet total, or over 50 average employees in the financial year, fall within its purview.
Germany: Supply Chain Due Diligence Act
Similar to Norway's Transparency Act, this piece of German legislation addresses human rights and working conditions in the supply chain. Fashion and textile brands will be required to implement rigorous due diligence processes throughout their supply chains, focusing on human rights and environmental standards. This includes monitoring and reporting on potential risks and adverse impacts in their global operations, such as:
Creation and use of pollutants
The handling of hazardous waste
Child and forced labor
Discrimination and inequality in the workplace
Moreover, companies will need to establish effective grievance mechanisms and provide transparent, accessible information to the public and authorities.
Now in effect as of January 2023, this law applies to large businesses operating in Germany and will levy a 2% fine on global turnover, as well as a potential ban from public contracts, for failure to comply. Currently it applies to companies with more than 3,000 employees in Germany, and in 2024 it will extend to businesses with 1,000 or more.
How stay compliant with the upcoming EU textile regulations
As the EU continues to introduce and refine its climate regulations and directives, it will be essential for apparel and textile brands to have a clear understanding of their products' environmental impact throughout the entire life cycle. As an apparel or footwear brand, it's important to prepare for the EU textile strategy regulations and directives—especially as gathering and consolidating all your data takes quite a lot of effort. You will be required to report retroactively, so it is important to get the right tools in place now.
Carbonfact is here to help. We are a team of climate scientists, engineers, and data experts who came together to build innovative software to simplify environmental footprint measurement for fashion and textile brands.
We deliver accurate, third-party reviewed environmental data for each of your products, so fashion brands can reduce their absolute and per unit environmental footprint.
Get in touch to see how we can help you stay compliant.