Automatically consolidate and centralize your data
No more spreadsheets. Carbonfact's automated data ingestion engine connects to your systems and takes the hassle out of data consolidation.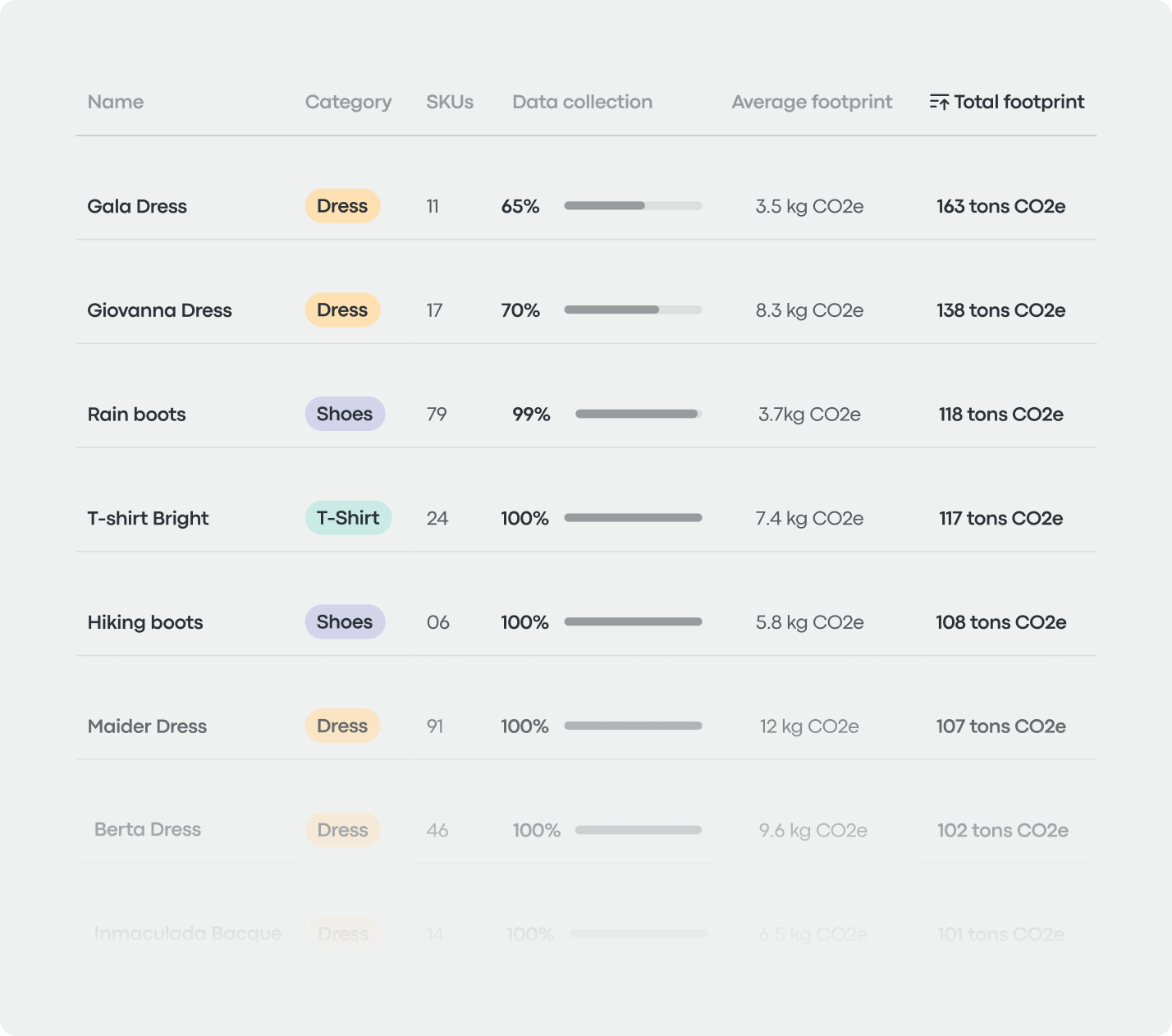 Discover the Carbonfact flexible data ingestion
Say goodbye to manual data entry
Carbonfact's automated data ingestion feature imports and syncs data from any source, in any format, eliminating the need for manual entry and minimizing data-entry errors. Whether your data is stored in a database like a PLM or ERP system, a data warehouse like Snowflake or Google BigQuery, or even an Excel file, we've got you covered.
Consolidate complex and messy data
We build a custom connector to collect and organize your data according to our internal data model, the Carbonverse. We use a combination of normalization logic, heuristic rules, and machine learning. Once your data is processed, it enters our automated LCA engine to calculate the environmental impact of each product and perform an overall analysis of your catalog.
Keep track of your platform's progress
Stay up-to-date on the improvements we make to your account with our changelog feature. Our version control ensures that when we add more primary data or enhance our LCA engine, a new version is released. You can easily access the change history to view the number of products received, completed, and measured, and the average carbon footprint of your catalog at the time of release.
Measure your CO2 emissions
Get in touch and discover how Carbonfact can reduce your carbon emissions. Our in-house experts are ready to provide personalized guidance and solutions tailored to your specific needs.
Don't take our word for it, take theirs
"Working with Carbonfact is crucial for us because it enables our entire team to seamlessly integrate carbon reduction into existing processes, fostering informed conversations and data-driven planning. What impresses me the most about the platform is its ability to highlight the variables with the greatest impact, driving our focus towards meaningful sustainability measures."

""It is important to Nanushka that any fabric innovation and development is supported by scientific assessment, and Carbonfact platform helped us accurately measure the impact of OKOBOR TM, our exclusive new alt-leather fabrication. We modelled that replacing 1 kg of our previous alternative leather with OKOBOR TM can lead to a 20% reduction of carbon emissions, saving 2.3 kg of CO2. "

"Among the crowded market of carbon management tools, Carbonfact stood out for us. Their solution met our specific needs of automating carbon footprint calculations for all our products and emission scopes in the textile industry. Carbonfact's LCA expertise, smart approach to handling data gaps, and ability to connect and feed calculation results back into our systems were key factors that convinced us."