The fashion industry is responsible for nearly 4% of all greenhouse gas emissions worldwide and uses more energy than the aviation and shipping industry combined. According to a UN Climate Change report, fashion brands will need to dramatically reduce their carbon footprint in order to meet the goals of the Paris Agreement on Climate Change.
The fashion industry's impact on climate change is not lost on consumers. More shoppers than ever are pushing for action, and rewarding companies like ArmedAngels and Allbirds for their leadership in sustainability. If fashion brands hope to meet emission goals and become aligned with emergent market demands, they will need to accurately manage their greenhouse gas emissions across the entire lifecycle of their product lines.
What is Carbon Accounting?
You're probably familiar with carbon accounting, a method of tracking carbon emissions that enables businesses to understand the environmental impact of their operations. Most carbon accounting procedures are conducted once a year, which creates a significant gap between the previous year's product and your current line. If any component of the supply chain changes between the time you commissioned the report and your current line —materials and suppliers, for example—the data will already be out-of-date. If we want to decarbonize fashion, we need to make informed decisions based upon current, real-time insights into the emissions.
Carbonfact platform: Full-scope Carbon Accounting
What is Carbon Management?
Carbon management is a proactive and strategic approach to actively reduce greenhouse gas emissions throughout the entire supply chain, enabling brands to achieve their sustainability goals while enhancing operational efficiency. By syncing a carbon management tool to your existing business software, you will be able to access real-time measurements, and make accurate forecasts based upon changes in materials, suppliers, or transportation.
For fashion brands, this means that designers and engineers can integrate carbon data from the initial stages of the design process through to the finished product. Not only will you understand your footprint with carbon management, you'll be able to identify and act upon key opportunities to reduce emissions throughout the value chain.
Carbonfact platform: Run product-level scenarios to forecast the change in environmental footprint when changing materials, transport etc.
Comparison between carbon accounting and carbon management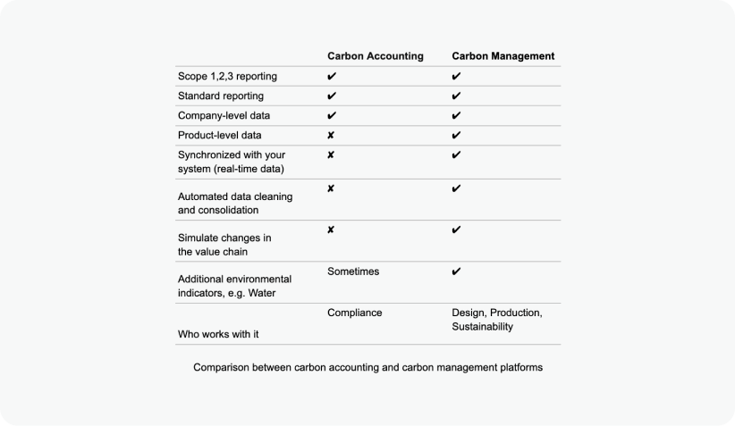 Comparison between carbon accounting and carbon management platforms
The advantages of an industry-specific carbon management platform
The carbon management industry is growing. There are numerous tools on the market such as Watershed and Plan A that offer carbon accounting for a slew of industries, but we believe the most accurate and efficient tools are industry-specific.
Here's why:
An industry-specific carbon management tool is customized for the unique workflows and demands of a particular industry. Carbonfact, for example, integrates with your existing ERP and PLM software. What's more, our life cycle assessment tool is built with fashion product designers in mind and utilizes the expertise of a science team with a deep background in the apparel manufacturing process. Compared to a generalist tool that strives to meet the needs of a variety of industries, it's easy to see which solution is better optimized for reducing your brand's carbon footprint.

Another benefit is the breadth of industry-specific data a niche carbon management tool like Carbonfact offers. We have a built-in database of heuristics specific to the fashion industry, and can measure your carbon footprint even if you don't have all the data on hand. This also allows us to achieve a data network effect, in which your suppliers are already built into our system.

Climate regulations and reporting requirements are different across industries. For example, fashion brands must report on a different set of metrics than, say, the automotive industry. Each sector has a distinct set of emissions sources and supply chain complexities, requiring tailored methodologies and metrics to accurately measure and compare their respective environmental impacts. Using a carbon management tool designed for your industry helps insure you are compliant.
Comparison between generalist and industry-specific platforms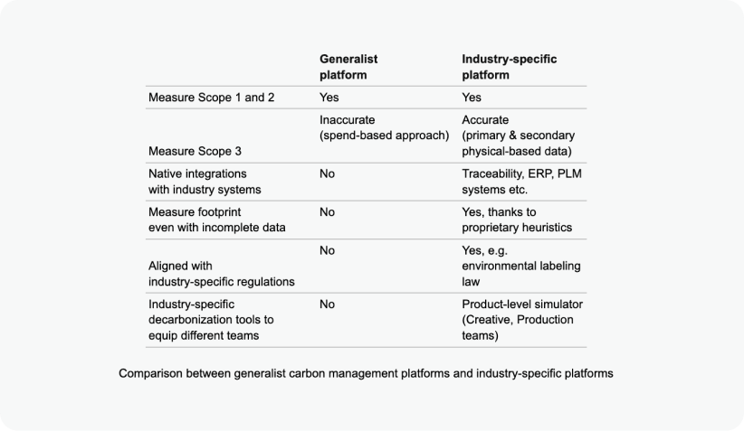 Comparison between generalist carbon management platforms and industry-specific platforms
Carbonfact is optimized for the fashion industry
Carbonfact is the only carbon management tool designed specifically for the fashion industry. Leveraging the expertise of our science team, Carbonfact's life cycle assessment engine offers a robust, curated dataset that can illustrate how product-level decisions impact your company's total greenhouse gas emissions. Even if your company has messy or missing data, our life cycle assessment tool can help fill in the blanks and make sense of your carbon footprint.
Carbon management plays a crucial role in the fashion industry's journey towards decarbonization. By actively reducing greenhouse gas emissions, fashion brands can not only contribute to the fight against climate change, but also enhance their brand reputation. An industry-specific carbon management tool is the most effective method of achieving these goals.
Such a solution offers quick integration into your existing software, fashion-specific metrics, and expert understanding of the manufacturing process. Carbonfact quickly identifies hotspots and helps you make product-level decisions that will reduce your company's carbon footprint. With Carbonfact, brands can position themselves at the forefront of our industry's efforts to decarbonize fashion.