Low impact clothing often comes with a hefty price tag, but Adore Me is on a mission to make lingerie that's better for the planet and their customers' wallets—and Carbonfact is helping with this journey.

We sat down with the Adore Me team to find out how their design, production, and sustainability teams rely on Carbonfact's real-time insights to make informed decisions on how to lower their carbon footprint throughout the supply chain.
Adore Me case study video
Watch the video to discover:
How Carbonfact's LCA engine empowers Adore Me's design and production teams to identify areas for eco-friendly improvements

How Adore Me reduced the carbon footprint of their upcoming spring collection by 12% using Carbonfact's production scenario simulator
About Adore Me
A digitally native, body-positive lingerie brand, part of the Victoria's Secret & Co portfolio. Since 2011, Adore Me has served women of all sizes and budgets, leveraging technology to reduce its carbon footprint without raising costs
Video Summary
Challenges
Measuring the carbon footprint of a product collection is a major hurdle fashion brands face when wanting to decarbonize, especially for brands like Adore Me who want to reduce their impact while keeping prices affordable.

Conducting an accurate life-cycle assessment (LCA) for just one fashion style can take weeks or months and cost up to $15,000. The results are static and just a snapshot of the past.




One of the biggest challenges Adore Me faced in their journey to decarbonize was aligning the different stakeholders in design, production, marketing, and compliance, all with their own agendas, around the same sustainability data.



Solution
Adore Me needed a solution that could fast and reliably measure the carbon footprint of the thousands of products it designs every year, at a fraction of the cost of traditional methods.

Adore Me wanted to partner with a technology solution that could run accurate, and real-time LCA for their entire product catalog in a scalable way.

From raw materials to supplier selection, Carbonfact's carbon management platform empowers Adore Me's design and production teams to identify key areas in the supply chain, where they can make improvements to lower the environmental footprint of their catalogue.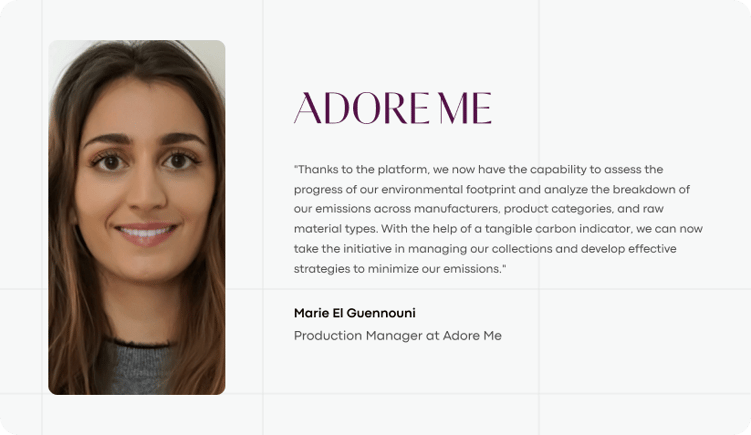 Results
Adore Me achieved a 12% reduction of the carbon footprint of 12% in the of the upcoming 2024 spring collection.

Adore Me's designers and engineers now integrate carbon data from the initial stages of the design process.

The production team forecasts the effects of changes in materials, suppliers, or transportation on the company's footprint with the help of Carbonfact's Product Impact Simulator.
Dynamic Life Cycle Assessments (LCA) help identify key carbon emissions reduction opportunities in the value chain.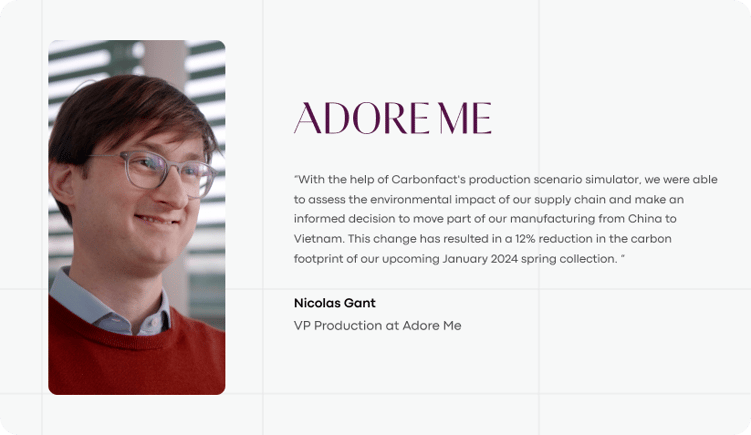 What's next for Adore Me
Being able to see the carbon emissions throughout a product's entire life cycle brings Adore Me one step closer to their goal of reducing its scope 3 carbon footprint by 20% in 2025, and achieving net zero status by 2050.
Want to dive even deeper and learn how Adore Me is using Carbonfact to reduce the footprint of its future collections? Sign up for our free webinar hosted by Marie El Guennouni, Production Manager at Adore Me, and Dr. Bahareh Zamani, Head of Science at Carbonfact: