This is Martin from Carbonfact. We just released our new, improved Product Impact Simulator. I believe this tool is a game-changer in understanding and reducing your product's emissions, empowering your design and production teams to make informed choices when making changes.

Watch the video to see an example of how I reduce the carbon footprint of a pair of pants or scroll down to read everything about the new feature!
New: Product Impact Simulator 2.0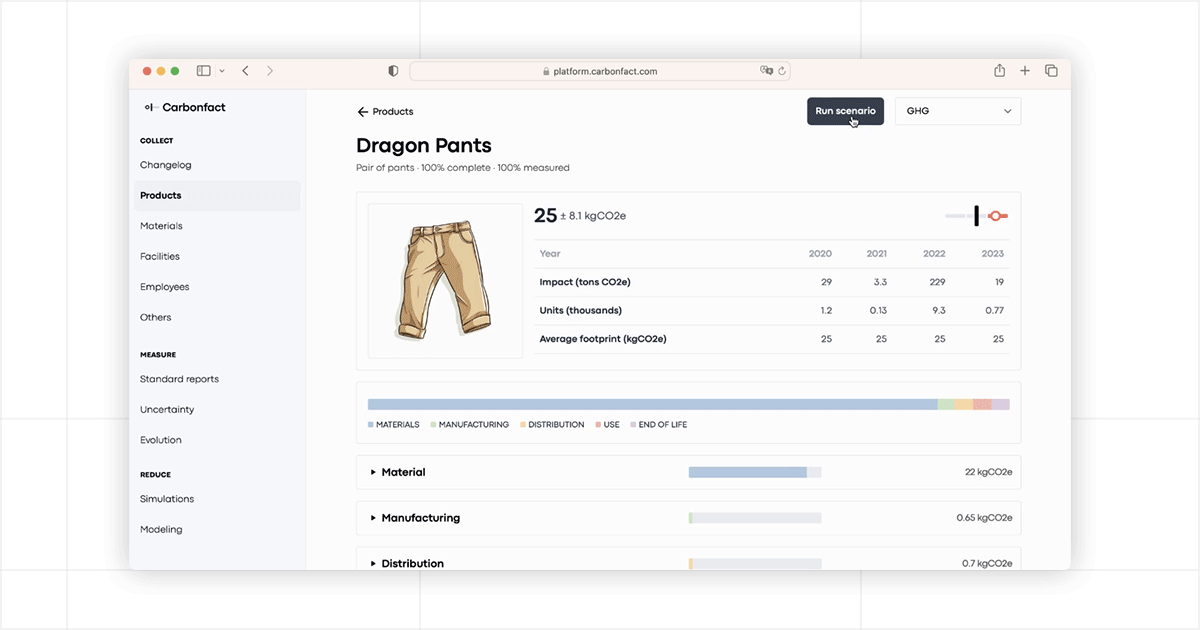 You can now construct detailed what-if scenarios directly from a specific product, saving you the time of inputting all the details manually. Whether you want to experiment with different materials, swapping components, altering suppliers, country of origin, or alternate transportation methods, the new Product Impact Simulator can do it all. Its comprehensive design allows you to play with a variety of parameters and immediately see the resulting impact on your emissions.
Watch a demo
Watch this demo to see just how much detail you can go into with your simulations. By using the Product Impact Simulator , you gain a powerful tool to make data-informed, impact-conscious decisions that align with your goals.
Customer webinar - See in practice
Want to dive deeper and learn how Adore Me is using Carbonfact to reduce the footprint of its future collections? Sign up for our free webinar hosted by Marie El Guennouni, Production Manager at Adore Me, and Dr. Bahareh Zamani, Head of Science at Carbonfact: